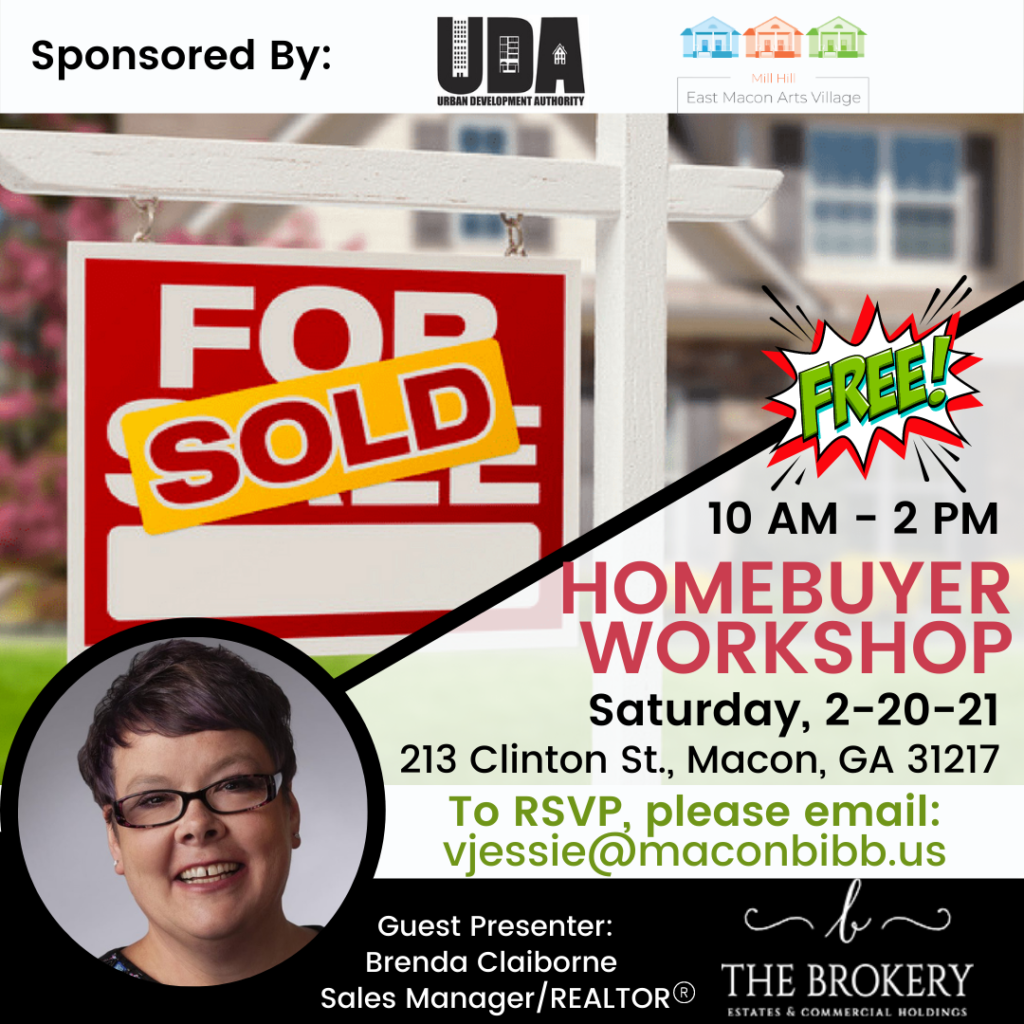 FOR IMMEDIATE RELEASE
February 12, 2021
Contact: Victoria Jessie, Project Director
Telephone: (478) 803-4196
Email: vjessie@maconbibb.us
MACON, GA – The Urban Development Authority (UDA), in partnership with Mill Hill East Macon Arts Village, will host a Homebuyer Workshop, the first of a new event series provided to the community. The workshop will be held Saturday, February 20, 2021 from 10:00 a.m. to 2:00 p.m. The event will take place at the Mill Hill Community Arts Center, located at 213 Clinton Street in Macon.
The free-of-charge workshop will offer a variety of resources to people who are preparing to become homeowners and those interested in learning more about the homebuying process. Attendees will have the unique opportunity to receive information about homebuyer incentives, including local downpayment assistance programs.
The workshop will also include a special presentation by Brenda Claiborne of Macon's award-winning firm, The Brokery. Claiborne, who has specialized experience working with homebuyers of all levels, will cover several key topics including how to apply for a mortgage, work with agents to secure a property and successfully close on a home.
"The Mill Hill project was intended to unlock opportunities for home ownership to artists and entrepreneurs who never thought they'd be able to afford a home. We are thrilled to offer this workshop to the community and hope that some of the attendees can see themselves making a difference in the East Macon community," Authority executive director Alex Morrison, said.
After lunch is served, attendees will have exclusive access to tour six, newly renovated homes that are currently for sale in Mill Hill East Macon Arts Village.
As seating is limited, interested attendees are asked to reserve a seat by emailing: vjessie@maconbibb.us. Masks and social distancing are required during the event.
Located in the historic Fort Hawkins neighborhood, Mill Hill East Macon Arts Village was created as a revitalization effort in 2017 to provide an arts-centered community where residents have access to grow their creative skills and thrive economically. Since then, it has grown to include the new Mill Hill Community Arts Center and seven renovated homes.