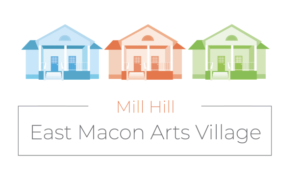 FOR IMMEDIATE RELEASE
October 5, 2020
Contact: Victoria Jessie, Project Director
Telephone: (478) 803-2402
Email: vjessie@maconbibb.us
Community Invited to Attend Fall Open House at Mill Hill East Macon Arts Village
MACON, GA – The Urban Development Authority (UDA) will host an open house on Saturday, October 10, 2020 from 1:00 p.m. to 3:00 p.m. at Mill Hill East Macon Arts Village, located in the heart of the historic Fort Hawkins neighborhood.
The open house will feature fully-renovated, single family homes for sale on both Schell Avenue and Taylor Avenue. A host of amenities await future homeowners, including new, modern appliances and generous bonus rooms that can be used as studio-work spaces. Although the homes differ in square footage and price, each has distinct features that reveal the classic charm of their original architecture.
The Village was created as a revitalization effort in 2017 to provide an arts-centered community where community partners have the tools and resources to not only increase their skills, but to also thrive economically. Since then, it has grown to include new homeowners, seven renovated homes and the new Mill Hill Community Arts Center.
Through the continued partnership between the UDA, Macon Arts Alliance and Historic Macon Foundation, the Village continues to expand. Currently, renovations are underway at properties on Schell Avenue, with additional properties slated to be renovated in the coming months.
"By creating affordable, mixed-use homes, we are aiming to spur an inclusive redevelopment of Macon's first neighborhood and provide residents with much needed improvements and much deserved equity in their home," said Alex Morrison, executive director of UDA.
The UDA is committed to leveraging economic development resources to improve Macon in a variety of ways. With the help of our partners, Mill Hill East Macon Arts Village is a unique opportunity to create access to homeownership that allows residents to live, work and create within their own community.
For additional information, including pricing and property features, please visit www.maconbibbuda.com. For other questions, please contact Victoria Jessie at (478) 803-2402.